ZACATECAS SILVER–ZAC-TSXV–IPO'S TODAY WITH PERFECT TIMING
ZACATECAS SILVER (ZAC-TSXv) IS THE SILVER STOCK WITH PERFECT TIMING
Zacatecas Silver (ZAC-TSXv) is Bryan Slusarchuk's only silver play—and he has impeccable timing for YOU. 
Just at the exact right time—when silver demand for The New Energy Economy is all but guaranteeing a bull market in silver for years—he and Chairman James Hutton are bringing a tightly structured silver play (52 M shares, no warrants!) in Zacatecas Mexico, one of the most prolific silver districts in the world.
In fact, Zacatecas has mined 10% of all the silver ever mined in the history of the world.  Elephant country doesn't do this district justice.
AND…the good news for YOU and other investors is that Zacatecas Silver was funded last fall as a private company—before investor sentiment sent silver stocks soaring.  It was priced for a market with no silver euphoria like there is today.
ZAC-TSXv is coming to trade with: 
1. $9 million cash
2. Famed silver investor Eric Sprott owning 2 million shares
3. The Top Mining Management Team in the junior sector
4. Five distinct vein systems including 
a. Panuco—with a historical inferred resource of over 19 million ounces silver equivalent and is open along strike and at depth
b. El Cristo—2.5 km strike length and up to 600 m width
c. Muleros—3 km ++ strike length 
Drills will start turning quickly.  All that blue-sky potential will (God willing!) quickly turn into a bigger resource—if the drill hits good holes!
As I told you yesterday, you and your portfolio already know and love this team.  President and CEO is Bryan Slusarchuk——who I can already thank for two GREAT gold plays–
K92 Mining (KNT-TSX / KNTNF-OTC; 50 cents – $8+) and Fosterville South (FSX-TSXv FSXLF-OTC; 40 cents – $5+

)
.  Both were big winners right out of the gate for my subscribers and readers.
Now he brings us Zacatecas Silver at this best possible moment—as a paradigm shift is happening for silver—as solar panel driven demand for the metal goes ballistic and the market wants to profit from that by playing in the junior silver sector.  By the way, K92 CEO John Lewins—the man responsible for creating nearly $2 BILLION in market cap there—is on the board here.
So Slusarchuk has assembled a team of top-tier, proven junior mining execs.  And he has been kept the share structure tight–just 52 million shares outstanding, no warrants and $9 million already in the kitty; that's enough cash for two full years. 
That tight share structure creates WONDERFUL leverage for investors. That's what helped drive Fosterville South from 40 cents – $5 in three months, starting just 11 months ago.
Slusarchuk, Hutton et al have built VERY successful juniors before.  You KNOW them now if you have been reading my stories for the last year.  Successful people are the first, second, third and last box I check out of several.  I have that in spades here.
Management and employees own whopping 35% of the shares outstanding.  I always want teams that have real skin-in-the-game.  That checks another important box for me.
It also means that I know that they are in this to get rich with me as a shareholder, not off of me with big salaries.
Having The Biggest Name in the silver market—Eric Sprott—invested is always a big validation.  Sprott was a ground floor investor in Slusarchuk's Fosterville South too—which soared out of the gate.
People and share structure are key to the success of any junior mining company—but you also better have a world class asset.
 
ZAC-TSXv has a 78.2 square kilometer land position in the legendary Zacatecas silver region—which has historically produced more than 6.2 BILLION ounces of silver over 500 years. 
More than 10% of the silver ever produced in the recorded history of the world has been produced here!!! 
This is the Beverly Hills of silver mailing addresses……
The company is surrounded by giant silver mines.  The Fresnillo Silver Mine and the Peñasquito Polymetallic Mine are two of the biggest in the world. After 500 years the Zacatecas Mining District still accounts for 21 percent of Mexico's gold mining production and 53% of silver.
Zacatecas Silver's property is contiguous with Pan American Silver (PAAS-NYSE; US$27).  Dotting the area around it are and MAG Silver Corp (MAG-NYSE/TSX; US$21), and Endeavor Silver (EDR-TSX; $8) ….plus Penoles which has 25 kilometers of the world renowned Fresnillo Mine.
The Resource And The Exploration Target
The Panuco target has a historic inferred silver resource over 19 million ounces—and is just one of five main areas of interest on the property.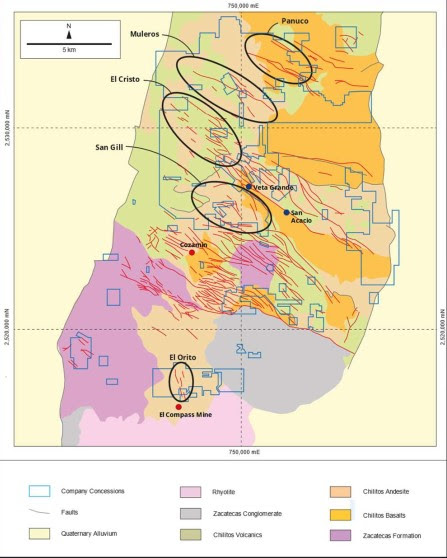 There is a lot of organic upside here, through further drilling and metallurgy. Previous teams here only modelled a 62% resource recovery, which is based on the nearby Veta Grande mill. 
The veteran geologist here ("Dr. NO") is Chris Wilson.  Wilson told me that since nobody in the last 20 years has bothered to do any metallurgy on this ground, there is great potential to increase the recovery factor. 
He took me through all the granular details on these assets, and he and his team are convinced there is major potential to increase the resource at Panuco.
The nearby El Cristo Vein System—which is the northwest extension of the 200 million ounce Veta Grande vein system—is also being drilled in the near term.
Wilson showed me multiple veins that were up to 3 km long over an area that is up to 600 meters wide—and it only has eight drill holes in it.  He explained to me how he thinks a huge "zone of dilation" has opened up underground at this property, which could have been filled with mineralized fluids. 
He says they're going to test that high priority target as fast as they can.
Every red line in the graphic below represents a vein—if this exploration target was in Canada it would be a stand alone junior by itself with a ton of institutional interest.  Instead, it is just one of Zacatecas Silver's five  main targets.
El Cristo, Panuco and Muleros all have 2.5km + strike lengths and exploration could prove them out even longer. Given the zip code, all of these leads are compelling.
Micro, Macro, Exploration and A Resource Base…
As always, I guarantee nothing in the mining sector.  Junior mining stocks aren't for widows and grandmas. 
They are for guys and gals like us who live for junior mining speculation, where 10-baggers like Fosterville South can happen in months or even weeks.
But as a three-decade junior mining capital markets guy this is as close to investment nirvana as it gets.  This company was funded when silver interest was much lower.
We have the perfect macro set-up.  Silver is now a key metal in the global De-Carbonization effort.  Do not underestimate how important that is. Silver demand is about to explode higher as solar panels blanket the world.
Inflation is good for precious metals, and silver is somewhat replacing gold as the metal of choice.
We also have the perfect micro set-up.  This is a top team.  They have an incredible shareholder base, including Eric Sprott.  There is huge insider ownership and the share structure is tight.  Cashed up with all the money they need for the next two years.
Then we have the blue-sky exploration potential.  ZAC-TSXV has SEVERAL 2.5 km+ veins to explore & delineate. This is one of the few places in the world where you can poke just a few drill holes that build high-grade, high-value silver companies. 
And there is lots of M&A potential very near to them. This is a team who knows how to use their stock as currency.
Investors get a known silver resource—surrounded by other vein systems—which are surrounded by other major silver producers—and enough cash in the treasury to drill non-stop for over a year if they choose.
But I think the best thing of all is—this high-grade team funded these high quality properties when interest in primary silver plays wasn't exciting.  Now it is VERY exciting.
The market is now HUNGRY for junior silver stocks.  It should be.  Silver is heading into a big-time bull market and this company's stock has excellent leverage to silver.
We rode the leverage of juniors to great times last year with gold.  Now it is silver's turn, and I can't imagine a better way to do it than Zacatecas Silver.
Zacatecas Silver management has reviewed and sponsored this article. The information in this newsletter does not constitute an offer to sell or a solicitation of an offer to buy any securities of a corporation or entity, including U.S. Traded Securities or U.S. Quoted Securities, in the United States or to U.S. Persons. Securities may not be offered or sold in the United States except in compliance with the registration requirements of the Securities Act and applicable U.S. state securities laws or pursuant to an exemption therefrom. Any public offering of securities in the United States may only be made by means of a prospectus containing detailed information about the corporation or entity and its management as well as financial statements. No securities regulatory authority in the United States has either approved or disapproved of the contents of any newsletter.
Keith Schaefer is not registered with the United States Securities and Exchange Commission (the "SEC"): as a "broker-dealer" under the Exchange Act, as an "investment adviser" under the Investment Advisers Act of 1940, or in any other capacity. He is also not registered with any state securities commission or authority as a broker-dealer or investment advisor or in any other capacity.