Trulieve Is The Clear Cannabis Stock Winner. Here's The Next One
I want to find the next Trulieve (TRUL-CSE) in the cannabis space.  The stock has hit new highs over $30/share recently!  After  a five year rollercoaster of stock charts, chewing through BILLIONS in investor equity, Trulieve has what every investor wants:
A business model that works
A management group that can execute
  The high level model that is now shown to be the best is:

1.      Be in the USA.
2.      Focus on one state, and OWN that state (Florida).  Have critical mass.
3.      Vertically integrate—control your product quality and your retail brand—which will give MUCH better profit margins.
 
That is clearly a difficult task, as TRUL is truly the only real long term investor success in the sector.  All the cannabis stocks had big runs in 2017 on hype and hope, but now, only TRUL is putting up the numbers investors want to see.
 
Numbers like flawlessly opening 60 retail dispensaries, by almost tripling cash flow YoY (297%) to $77.8 million, and increasing revenue guidance on top of that by 20%, and EBITDA guidance by 40%.  CHA CHA CHA!!
 
And shareholders have been rewarded, with the stock now at around $30.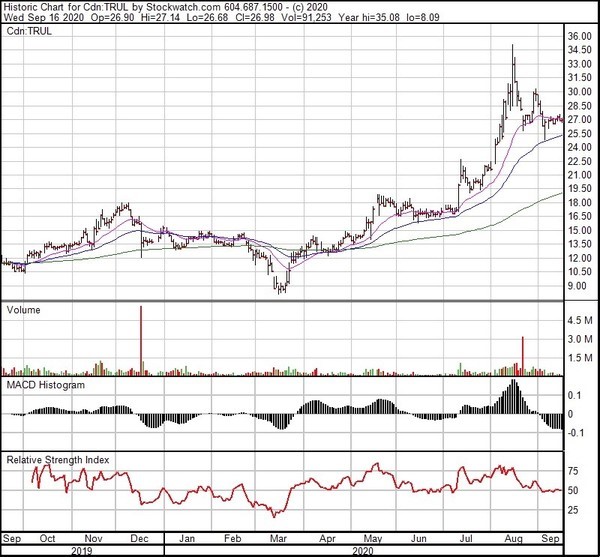 If the Democrats win the White House in November, the Market will price in that these companies will be able to access the regular banking system for their business and get a US listing for their shares—both of which would send multiples soaring in this high growth industry (pardon the pun).
 
The company I'm watching closely is a new IPO that's due out this fall—Gage Growth Corp. The trading symbol will be GAGE.
 
"Gage is well on its way to owning the state of Michigan like Trulieve owns Florida", says Gage President, Fabian Monaco.  They have five operating stores now, another 5 almost built and plan to open one a month from now through to the end of 2021!  He says they will be following the same business model as Trulieve.
 
"When you look at Trulieve and what CEO Kim Rivers has been able to do with their target market, it's phenomenal.  She is building her brand and catering to that particular category of the market, and doing exceptionally well doing it.
 
"And so for us, we thought the same thing, dominate one particular market—Michigan.  When we get to 25-30 stores, which we think is the sweet spot for Michigan, we can go to other states.  But it's not like we're going to wait until the end of our growth cycle to then go to another state. When we feel it's right, we'll start moving."
 
Michigan is a huge market, surprisingly bigger than Illinois, Monaco adds. Recreational use got started near the end of 2019 but has recently hit its stride with strong monthly sales figures as of July. 
 
Gage is moving fast–by the end of their 2021 build out, they expect to have a dispensary within an hour's drive of 90% of the state's population–where over 70% of the people are 21+ and able to consume under the new recreational rules.
 
That's a  staggering figure when compared to other states. Also—"Michiganders" consume the most flower per capita in all of the US.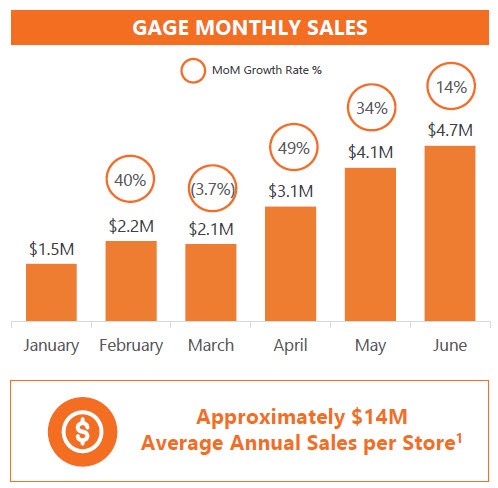 Gage is quickly capturing the market and so far, so good. "Sales growth is exploding", says Monaco.  January revenue was roughly $1.5 million but now that's almost $5 million a month—which is what you would expect with a new store opening almost every month. 
 
But he says more importantly, Gage's customer retention and "basket size" (how much each customer buys at one time) is going up and is consistent.

"The big basket sizes are also driven by our product drops. So every week, we try to drop new product that's coming out of our cultivation facility. The way we're getting new product from our cultivation facility every week.
 
With these regular product drops, you could see $300, $400 basket sizes—where people rush to go and get the new strain or the strain that they're really a fan of, that only comes on a five to six week rotational basis."
 
"I think that continually drives the basket size upwards". Gage's average basket size has been $175+ for the past four months straight—an industry leading stat.
 
Sales is one thing, cash flow is another.  The key for Trulieve—and for Gage, says Monaco—is having an integrated model where you grow and sell your own products.
 
"To capture profit margins, you have to have your own supply. Right now, it's a very, very tight market for supply in Michigan. If you're one of those companies that only has retail as an example, right now, it's tough to get product—and your margins are lower than you'd want them to be.
 
"That's just because you have to pay up to get rec (recreational) product. It's difficult enough to get medical product, but now (that) rec has started to gain steam, and I think it overtook medical in the month of July.
 
"You must have your own supply.  The ones that have their own supply or at least have a dedicated partner on a wholesale basis—they are the ones that are doing really, really well at retail level with good margins."
 
Rising sales and EBITDA is just what the Market wants to hear, and Gage is working hard to go public as quickly as possible.  Monaco, a former investment banker and lawyer, says audits are done and the prospectus is mostly complete.
 
Before going public they'll be looking to tap into the large US retail market for investors.  They are now finalizing that process in the US.
 
"In the last couple years, the retail investor opportunity has exploded. There are a whole variety of people that have been, and are continuing to invest in the markets. We see a lot of the buying and a lot of the growth coming from the retail investor in the cannabis space. Often times, these same retail investors are the consumers of products and services they are not only buying in their everyday lives but also investing in."
 
Their timing is perfect.  Their own business is doing very well, while Trulieve's stock is doing very well, and everyone is expecting a more liberal set of rules around cannabis in the US in the coming years, regardless of the US presidential election winner.
 
Being the Trulieve of Michigan is a great meme for investors to grab, but I asked what Monaco would be telling investors is about the big differentiator of Gage amongst all the other cannabis players.
 
"Predominantly it's operational expertise. If you take a look at the dispensary performance of our competitors, or if you take a look at average basket size of our competitors, that in and of itself is going to be a strong differentiating factor when you look at how we are performing in those areas of our business.
 
"But if you then take a look at the amount of capital invested into our business, and what we've been able to produce with that amount of capital versus everyone else, it's a stark and substantial difference as well."
 
The cannabis sector is becoming mainstream in the US—where stocks are being valued on traditional metrics like revenue, cash flow and profits. At the same time, there is no glut of product in much of the country, and the legal market is increasing every month.
 
Time will tell, but as stocks like Compass this week are showing us, the Market wants these new high growth sectors of cannabis & psychedelics.  I'll be watching Gage closely on its IPO.