The RFID Solution That Will Make Me Rich
TrackX Holdings Inc (TKX:TSXv;TKXHF-PINK) is the microcap stock with the proprietary RFID technology rapidly being deployed by multiple NASDAQ/NYSE listed corporations.
These are big contracts for a very small company. The impact on revenues and more importantly free cash flows / profits – will be dramatic.
To be clear – the contracts with these large corporations are already in place. That means that investors have a clear view to the rapid, near-term ramp up in TrackX's revenue in the coming quarters.
Here's what I'm going to tell you:
Why Anheuser Busch/InBev (BUD-NYSE) just signed a contract with them
Why the largest RFID tag company in the world (by a long shot) is bringing them business – LOTS of business
How TrackX recurring revenue stream could make them one of the most profitable small caps I have EVER seen
The Market is just now starting to understand what these contract wins means for TrackX. The stock has hit a whopping 42 cents!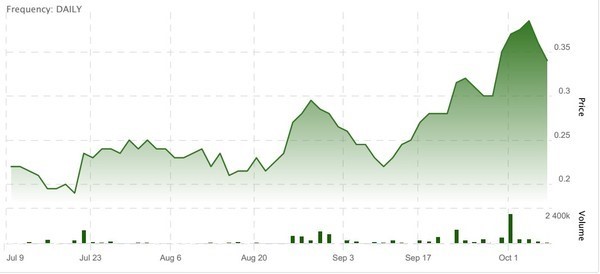 I hope you get that I'm joking. This stock clearly has a LONG LONG LONG way to go; I can see this being a HUGE WINNER for patient (and even not-so-patient) investors.
I repeat – this microcap is not only signing deals with global behemoths and NASDAQ-listed technology superstars, they have a recurring revenue stream that could make them one of the most profitable small caps I've ever seen.
I like it so much I bought 2% of the company – 1.7 million shares.
Let me tell you about Anheuser-Busch InBev (BUD:NYSE). This is a $170 billion plus market cap company that has chosen to use TrackX's platform.
The US beer industry has a $260 million a year problem. That problem is BEER KEGS.
US brewers overall own 28 million beer kegs, which go through hundreds of distributors to thousands of pubs/restaurants – who only pay a modest deposit for them.
Every year an absurd number – more than 2 million – of those kegs are lost and need to be replaced. At $130/keg, that's a $260 million annual loss.
This story gets even sexier… because of how TrackX landed the BUD deal.
The largest RFID tag hardware company in the world is Impinj (PI:NASD; $24). Impinj has connected an astounding 25 b-b-billion devices globally with its RFID tags.
Impinj is the biggest player in the RFID hardware game; the 800 pound gorilla.
Impinj can partner with any software provider it wants. In May of 2018 Impinj chose to partner with TrackX.
That doesn't tell you a little bit about the TrackX – it speaks volumes. It also tells you exactly where TrackX's sales numbers could go.
Impinj has the credibility to bring big accounts (pardon me; HUGE accounts) to tiny TrackX. After 25 billion tag sales, Impinj knows their industry better than anyone… and they see TrackX having the best enterprise-wide solution for its customers… and of course that will result in Impinj driving their own RFID hardware sales. That is why this partnership has happened.
This partnership is now starting to show up in TrackX's revenue. It's One Big Reason the TrackX revenue is expected to grow year over year over year.
The BUD deal follows another contract that TrackX locked down in 2017 with Carvana (CVNA:NASD) – another multi-billion dollar corporation. Carvana is revolutionizing used car sales in America with car vending machines and online sales: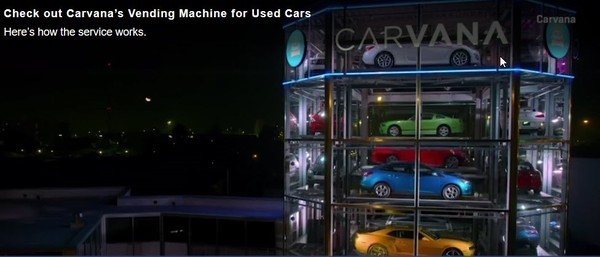 Carvana is light years ahead of its competition. To make this business model work Carvana must have very tight vehicle management – both to keep costs low and get cars where they need to be in a timely manner.
I showed you Carvana's stock chart in my last story – their stock has tripled and TrackX software is part of the reason. CVNA has installed TrackX's software at over 70 of their locations so far – with more coming.
I could go on and on. TrackX can track anything; it could be everywhere. They already track those blue portable toilets, plastic pallets, horticultural racks and trailers… they now provide solutions to 3 of the top 6 food and beverage companies in the industry.
How are they getting these contracts? Because they supply their customers with 8-16 month paybacks on their technology. TrackX provides such a compelling value proposition for customers, they always ask for TrackX to track much more than what was in the original contract.
Land and expand. Start off with a $500,000 order and end up getting $5 million in business. It's happening now with their current customer base.
Capital Light, with Fat Profit Margins
TrackX isn't in the business of RFID tags and related hardware. Instead TrackX provides the glue between the largest RFID hardware manufacturers and the Fortune 1000 companies that use them.
This is the software business which is where you want to be – fat margins and little capital spending required.
TrackX provides the software that integrates the data that the RFID tags provide with the main business software (called ERP – Enterprise Resource Planning) of the Fortune 1000 companies.
Anheuser Busch will not only save millions, but they'll know where their kegs are, be able to hold their distributors more accountable for kegs, and be able to fill them more than the 3x per year that is the industry average. Can you imagine these kegs only get filled 3x a year!?? That could be much higher. Bud will get much more efficient.
The savings here for clients is remarkable. This is what differentiates TrackX from its competition – it provides a single platform to address all of the enterprise-wide asset management needs of Fortune 1000 companies.
That a huge selling point and unique to TrackX. This is why such a small company is winning business with such huge corporations.
Other software providers can't do that. Or Impinj – who knows more about RFID than anyone else in the world – would not have partnered with them.
It is the essential link that ties data to reporting/analysis tools. It makes companies A LOT more efficient. TrackX charges customers a monthly fee for that data, and its interpretation. This is called SaaS (Software as a Service). This is a gold mine of more than 70% gross margin revenue!
And it's why TrackX can be cash flow neutral at such a small revenue rate. As the business scales, this will just grow and grow and grow.
That's why I own 1.7 million shares, or 2% of the company.
The TrackX Financials Are Already Extraordinary
At last year's Berkshire Hathaway annual meeting Warren Buffett admitted that he had made a big mistake by not investing in technology companies.
At that time there were only five publicly traded companies with larger market capitalizations than Berkshire's. All of those five stocks were technology companies.
Buffett lamented that "It used to be that growing and earning large amounts of money required investment… but not anymore."
His point was that these businesses require virtually no equity investment. Once the dominant intellectual property is in place all of the revenue that comes through the door turns into free cash flow.
That is crucially important for investors because free cash flow drives stock prices over time.
This is the SaaS – Software as a Service business model of TrackX. There is virtually no equity investment required.
That is why the company has shown adjusted positive EBITDA with revenue growth just getting started. Going forward the share count is going to stay where it is while revenue – and more importantly cash flows – surge higher.
TrackX just secured a $5 million credit line. There is no need to issue any more stock for internal growth – which I expect to be quick.
To me, TrackX has everything:
Unique and proprietary technology
It can be used everywhere; it's ubiquitous
Compelling value proposition for customers; they get payback in a year
Almost all customers are Fortune 1000 companies; few local or regional clients
Channel partners (Impinj, Denso) rallying around the technology
Land and Expand Strategy working great (e.g. Carvana now installed in over 70 locations)
Highly profitable recurring revenue stream — SaaS; TrackX already reported positive cash flow in latest financials
$5 M credit line in place; no financing required for internally generated growth so no cap on the stock
CONCLUSION: Folks, this company is just getting started. Within 2-3 years, I think TrackX could do $25 million in revenue.
SaaS companies are valued in the 8-12x revenue range; a few more, a few less. But 8x revenue = $200 million valuation on a stock with 73 million shares out = $2.73 as a potential share price target – just three years out.
That's why I own 1.7 million shares! Of course, I have no idea where the stock could go, but that math – where I have one foot planted firmly in the air – is a definite possibility.
DISCLAIMER: Management has reviewed and sponsored this article.The information in this newsletter does not constitute an offer to sell or a solicitation of an offer to buy any securities of a corporation or entity, including U.S. Traded Securities or U.S. Quoted Securities, in the United States or to U.S. Persons. Securities may not be offered or sold in the United States except in compliance with the registration requirements of the Securities Act and applicable U.S. state securities laws or pursuant to an exemption therefrom. Any public offering of securities in the United States may only be made by means of a prospectus containing detailed information about the corporation or entity and its management as well as financial statements. No securities regulatory authority in the United States has either approved or disapproved of the contents of any newsletter.
Keith Schaefer is not registered with the United States Securities and Exchange Commission (the "SEC"): as a "broker-dealer" under the Exchange Act, as an "investment adviser" under the Investment Advisers Act of 1940, or in any other capacity. He is also not registered with any state securities commission or authority as a broker-dealer or investment advisor or in any other capacity.
Keith Schaefer