The Cigarette Stock That Surprised Even Me
I'm flummoxed. I'm flabbergasted. I see that the stock of TAAT Lifestyle and Wellness (TAAT-CSE) has tripled to a high of over $3/share since I wrote about it in July—on huge volume.
I didn't expect that…well for sure not this soon. Their hemp cigarette—no nicotine, no tobacco, NO ADDICTION—isn't set to launch until November or December.
I clearly underestimated how this story would resonate with investors…not that I'm upset—I own 150,000 shares still.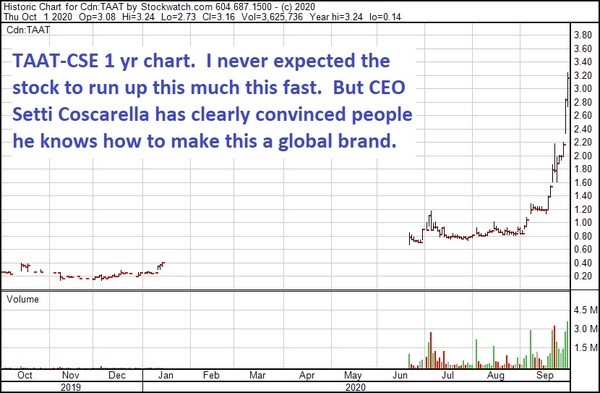 The main reason for this is the new CEO, Setti Coscarella. Ex-Philip Morris, ex-venture capital, current entrepreneur–when he does ZOOM calls or conference calls with investors, he maps out a realistic business plan to make TAAT a coveted cigarette brand.

The Market may have thought…hmm…hemp cigarettes (niche) that supposedly tastes and smokes like real tobacco (global mainstream)…I'll wait to see how it turns out. Maybe investors don't believe just how much TAAT tastes & smokes like a tobacco cigarette.

And certainly, to have a big position you have to believe that. Coscarella didn't commit to TAAT until he smoked it himself and said—not only is this just like tobacco, I think I can make this into a big global company over time.

But product uniqueness aside, when you listen to Coscarella lay out the business strategy—he speaks with certainty and authority. And with the stock moving up on volume like that, the company will be able to raise money. You can always raise money with a rising stock price.

This has turned from a product bet into a management bet. And I am more convinced every day that Setti and his team will continue to add a lot of value for shareholders.

I had lots of surprises in my update chat with him this week. On the stock, they are getting some surprising interest from ESG funds—because TAAT cigarettes could end up getting a lot of people off tobacco. TAAT is also getting a lot of interest in both the product and the stock out of Asia, which I guess is only natural given the much higher population that smokes there.

I was surprised to hear how important he thinks their patents are.

"We needed to add some intellectual property in addition to our trademarks, so that we have some IP that is also defensible, and can create value for the organization in the long-term going forward.

"With a patent you need some kind of novel process and that's ultimately what we were able to figure out.

"We figured out a way on how to take the "hempiness" out and then infuse the flavor into the plant so that when it comes out the other end, it has the flavor properties of tobacco, as opposed to the flavor properties of hemp. And that process, from start to finish, had never been done.

"And when we figured out this process and saw that it was novel, in my mind, I said, 'Well, this is something that needs to be patented so that we don't fall into the same mistake that the vape industry fell into and the cannabis industry, in that we're overly reliant on a flavor profile of a commoditized plant'.

"And that's where I think the value will ultimately end up being."

Since he came on as CEO a few months ago, he has found a new supplier with much lower costs, re-designed the pack to look like more mainstream tobacco product and brought in another Philip Morris alumni, Tim Corkum, to be Chief Revenue Officer.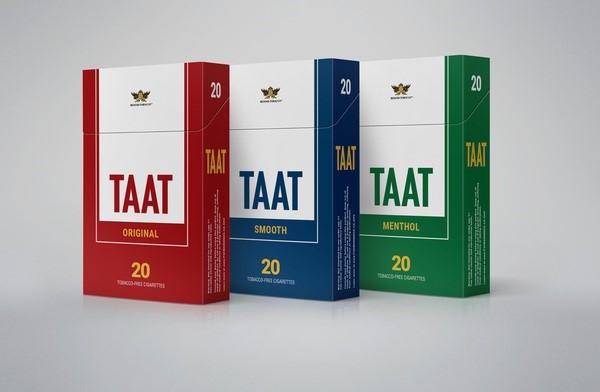 "Tim was 20 years at Philip Morris. I thought that he would be a great fit here because he understands the process of negotiating with key accounts.

"And one of the hallmarks of success in this business is working hand in hand with your key accounts and treating them like partners."

Coscarella said the other invisible partner in creating a global cigarette brand is the sales chain—the wholesalers, distributors and retailers. He says that's where most companies and brands fall down.

"What we're working on now is building out the distribution channel for convenience stores, gas stations, drug stores.

"We are really focused on some key areas so that with the infrastructure that we have, we can succeed in getting the product on the shelf, and then building out the appropriate marketing campaigns that could be focused and tailored to help get the product off of the shelf.

"You see entrepreneurs patting themselves on the back because they went out and did a deal with Costco, or a Bed Bath & Beyond, and then you really drill down in terms of how many products you have, versus how many stores you're in, and you see that they're selling two or three things a day or a week, that's because they just focused on distribution.

"They didn't really do a lot of the in-store stuff, and that stuff is expensive.

"So you need to focus your efforts so that you can match that with the capital you have, so that you can ensure that you can show the appropriate success and then scale accordingly.

"Those are the things that are engineered and deployed through meticulous detail internally. We need to make sure that the internal infrastructure is set so that we can support that going forward, because success really isn't in doubt in my mind. I know that we're going to do well."

Cigarettes are a stunningly profitable business, so there should be lots of cash flow to support the sales chain, says Coscarella.

"Now, look, the margins are healthy. I don't want to sort of publicly disclose what the margins would be, at least not yet. As we start to report them, people will see. But it's extraordinarily healthy.

"We'll use that to support some of the human capital needs that we'll need, but it will also be used to support marketing initiatives and then programs that you tend to run with your trading retail partners, to basically ensure that everybody throughout the chain is either making or saving enough money to make it worth their while.

"Otherwise, it just doesn't become terribly interesting for anybody. With our price point and our margins and our manufacturing, we are able to achieve that in spades."

There's one really important factor here I think that investors are not realizing, or are underestimating (besides Coscarella). With no tobacco, nicotine or addictive properties, TAAT's hemp cigarettes don't have the taxes on them that regular, tobacco cigarettes do.

So they can offer TAAT hemp cigarettes at a discount and still have lots of margin to incentivize the sales chain.

"We want to ensure that we can deliver our product at a cheaper price point. It won't matter what brand of cigarette you smoke, this product is going to be more than affordable for you to try if it's something that you want to use to help leave your nicotine addiction behind."

So the plan is simple—they have low cost manufacturing lined up, a modern tobacco-like package design and new marketing channels set to be announced sometime in the near future. Coscarella has his team and strategy in place, and the stock will allow him to raise the funds to execute (the company just forced conversion of the $1 warrants from a financing earlier this year).

Coscarella says he will move methodically and steady:

"We want to take it out to a few key markets initially. And given the price point and the marketing activities that we'll be able to do in the markets, I think the product will perform well.

"Historically, on the tobacco side, when you launch a new product in the market, if you can achieve a 0.4% market share within about six to eight months, you're well on your way. Because that's the tipping point. Once you get over that market share percentage, then there's enough momentum behind the brand that it can even start to grow organically. That's kind of the initial target.

"And I know it doesn't seem like a lot for somebody outside of the industry. But one thing about the tobacco business is that even fractional percentages of market share come with a lot of zeros."

DISCLAIMER

TAAT Wellness and Lifestyle has in the past 12 months been a corporate client of the OGIB Corporate Bulletin.